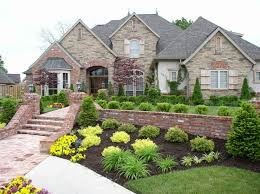 Landscaping is an important element of your home's curb appeal. Overgrown bushes and trees can make your home appear older, and in a buyer's eye, in need of repair. Fresh new landscaping can update an older home and put you in the running with newer homes if your home is on the market. If it's time to sell or just update, think about removing the overgrown shrubbery and replacing it with new bushes.
The design you choose can make or break your curb appeal so get help if you are not sure of what to plant or of the design. One mistake many homeowners make is not planning for the future when they plant. Some plants grow much too large to plant in front of your home so always do your research and find out how big the plants grow. Also, make sure that the root system will not interfere with any underground utilities.
Soften the corners of your home by planting a cone shape bush that grows taller, but keep it trimmed so it doesn't grow taller than your house. You should use smaller bushes under windows. For security purposes, you don't want to have any bushes that can provide cover for someone trying to break into a window.
Consider color in your design. Many plants change colors with the seasons and can add visual interest. Use a mix of bushes with perennial & annual flowering plants. Symmetry is, of course, a key element in design. If your entrance is symmetrical, use the same types of plants on either side. Similarly, you can frame architectural features such as picture windows with plants. If your eye isn't good with scale get help with your design.
Keep your design simple and natural. There are landscaping products like borders etc. but many of these type products can look unnatural and even tacky. Borders do separate planting beds from the lawn and help maintain a neat appearance. The best border should look like it is part of the natural landscape.
If you need help with specific plants for your home, your best bet is a local nursery. They will be knowledgeable about the types of plants that do well in your area as well as how to plant and maintain them. Don't wait until spring when everyone is out buying their plants though – the place will be too busy! The best time for planting bushes & trees is in the fall or winter anyway, so plan a trip then and you will likely get more personalized attention.